ACTH ELISA
ACTH ELISA kit to measure ACTH levels in human, mouse and rat plasma samples. ACTH (Adrenocorticotropic hormone) or corticotropin is a 39-amino acid hormone (MW=4500) secreted by the pituitary to regulate the...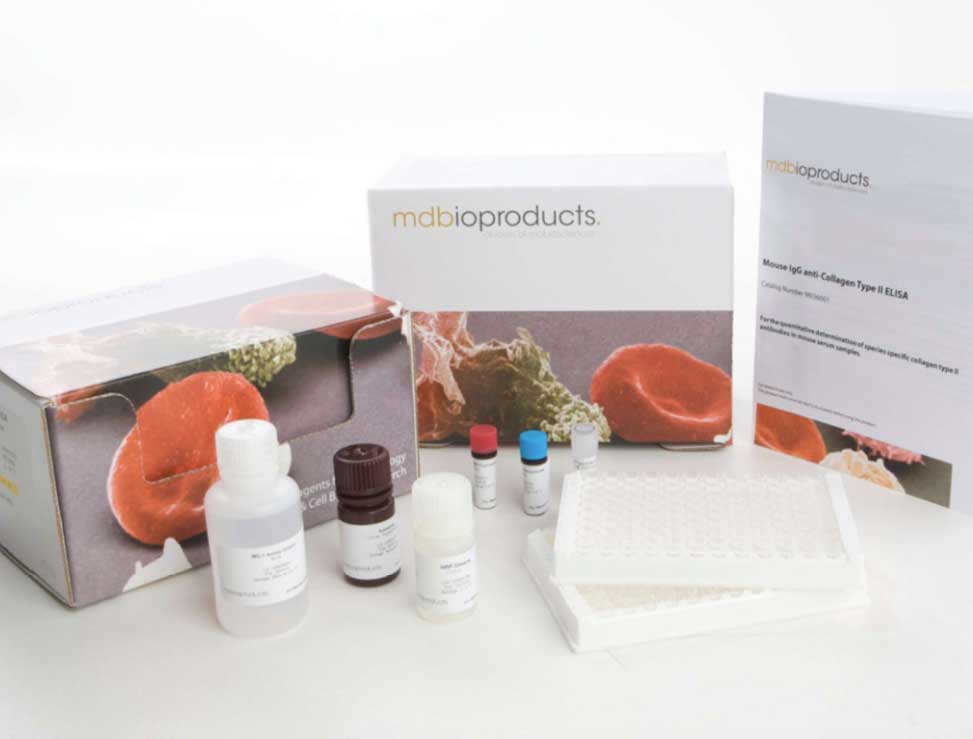 ACTH ELISA kit to measure ACTH levels in human, mouse and rat plasma samples. ACTH (Adrenocorticotropic hormone) or corticotropin is a 39-amino acid hormone (MW=4500) secreted by the pituitary to regulate the production of steroid hormones by the adrenal cortex. ACTH secretion from the anterior pituitary is controlled by both a classical negative feedback control mechanism and CNS-stress mediated control system. Various types of stress or pain perceived in higher levels of the brain modulate secretion of the hypothalamic neurosecretory hormone, corticotropin releasing hormone (CRH), a 41-amino acid peptide. CRH stimulates pituitary ACTH secretion. The second peptide that modulates ACTH secretion is vasopressin (AVP). AVP secretion is also stimulated by stress and acts synergistically with CRH to increase ACTH secretion in the pituitary portal circulation. ACTH increases the synthesis and release of all adrenal steroids, aldosterone, cortisol and adrenal androgens. It is the principal modulator of cortisol, the most important glucocorticoid in man. As the cortisol level in blood increases, release of ACTH is inhibited directly at the pituitary level. Through this same mechanism, decreasing cortisol levels lead to elevated ACTH levels.
Biologically active ACTH results from enzymatic cleavage of a large precursor molecule, pro-opiomelanocortin (POMC). This molecule contains within its structure the amino acid sequences of ACTH, Pro-ACTH, -melanocyte stimulating hormone, lipotropin, as well as endorphin and the enkephalins. Because the reaction in immunoassays is determined by antigenic structure, not biological function, the usual ACTH RIA reacts with POMC, Pro-ACTH, ACTH and some fragments of the ACTH.
ACTH may also be referred to by the following terms:
ACTH ELISA kit, Adrenocorticotropic Hormone ELISA kit, Adrenocorticotropin ELISA kit, Alpha-Melanocyte-Stimulating Hormone ELISA kit, Alpha-MSH ELISA kit, Beta-Endorphin ELISA kit, Beta-LPH ELISA kit, Beta-Melanocyte-Stimulating Hormone ELISA kit, Beta-MSH ELISA kit, CLIP ELISA kit, Corticotropin-like Intermediary Peptide ELISA kit, Corticotropin-Lipotropin ELISA kit, Corticotropin-Lipotropin ELISA kit, Gamma-LPH ELISA kit, Gamma-MSH ELISA kit, Lipotropin Beta ELISA kit, Lipotropin Gamma ELISA kit, LPH ELISA kit, Melanotropin Alpha ELISA kit, Melanotropin Beta ELISA kit, Melanotropin Gamma ELISA kit, Met-Enkephalin ELISA kit, MSH ELISA kit, NPP ELISA kit, POC ELISA kit, Pro-ACTH-endorphin ELISA kit, Pro-OpioMelanocortin ELISA kit, ProopioMelanocortin ELISA kit, ProopioMelanocortin PreProProtein ELISA kit
References/Citations:

Sasaki, H., Suga, H., Takeuchi, K., Nagata, Y., Harada, H., Kondo, T., Ito, E., Maeda, S., Sakakibara, M., Soen, M., Miwata, T., Asano, T., Ozaki, H., Taga, S., Kuwahara, A., Nakano, T., Arima, H., & Saito, R. (2023). Subcutaneous transplantation of human embryonic stem cells-derived pituitary organoids. Frontiers in endocrinology, 14, 1130465. 
Duncan, P. J., McClafferty, H., Nolan, O., Ding, Q., Homer, N. Z., Le Tissier, P., ... & Chambers, T. J. (2022). Corticotroph isolation from Pomc‐eGFP mice reveals sustained transcriptional dysregulation characterising a mouse model of glucocorticoid‐induced suppression of the Hypothalamus‐Pituitary‐Adrenal axis. Journal of Neuroendocrinology.
 
Lee, E. J., Saraiva, L. R., Hanchate, N. K., Ye, X., Asher, G., Ho, J., & Buck, L. B. (2022). Odor blocking of stress hormone responses. Scientific reports, 12(1), 1-11.
Almudhi, A., & Gabr, S. A. (2022). Green tea consumption and the management of adrenal stress hormones in adolescents who stutter. Biomedical Reports, 16(4), 1-9.
Takahashi, K., Shima, T., Soya, M., Yook, J. S., Koizumi, H., Jesmin, S., ... & Soya, H. (2021). Exercise-induced adrenocorticotropic hormone response is cooperatively regulated by hypothalamic arginine vasopressin and corticotrophin-releasing hormone. Neuroendocrinology.
Ji, H., Wang, Y., Liu, H., Liu, Y., Zhang, X., Xu, J., ... & Luo, E. (2021). Programmed core-shell electrospun nanofibers to sequentially regulate osteogenesis-osteoclastogenesis balance for promoting immediate implant osseointegration. Acta Biomaterialia.
 
Kageyama, K., Hagiwara, R., Niioka, K., Takayasu, S., & Daimon, M. (2021). Differential effects of β-arrestin1 and β-arrestin2 on somatostatin receptors in murine AtT-20 corticotroph tumor cells. Endocrine Journal, 68(2), 163-170.
 
Prévide, R. M., Wang, K., Smiljanic, K., Janjic, M. M., Nunes, M. T., & Stojilkovic, S. S. (2021). Expression and Role of Thyrotropin Receptors in Proopiomelanocortin-Producing Pituitary Cells. Thyroid, 31(5), 850-858.
Lee, E. J., Saraiva, L. R., Hanchate, N. K., Ye, X., Asher, G., Ho, J., & Buck, L. B. (2021). Odor Blocking Of Stress. bioRxiv.  
Bencze, M., VAVØÍNOVÁ, A., Zicha, J., & Behuliak, M. (2020). Pharmacological Suppression of Endogenous Glucocorticoid Synthesis Attenuated Blood Pressure and Heart Rate Response to Acute Restraint in Wistar Rats. Physiological Research, 69(3).
Hu, D., Li, D., Shigeta, M., Ochi, Y., Okauchi, T., Neyama, H., ... & Cui, Y. (2020). Alleviation of the chronic stress response attributed to the antioxidant and anti-inflammatory effects of electrolyzed hydrogen water. Biochemical and Biophysical Research Communications, 535, 1-5.
Lee, E. Y., Nam, Y. J., Kang, S., Choi, E. J., Han, I., Kim, J., ... & Chung, J. H. (2020). The local hypothalamic–pituitary–adrenal axis in cultured human dermal papilla cells. BMC Molecular and Cell Biology, 21(1), 1-11.
Boillat, M., Hammoudi, P. M., Dogga, S. K., Pagès, S., Goubran, M., Rodriguez, I., & Soldati-Favre, D. (2020). Neuroinflammation-Associated Aspecific Manipulation of Mouse Predator Fear by Toxoplasma gondii. Cell Reports, 30(2), 320-334.
da Silva Oliveira Barbosa, E., Roggero, E. A., González, F. B., Fernández, R. D. V., Carvalho, V. F., Bottasso, O. A., ... & Villar, S. R. (2020). Evidence in Favor of an Alternative Glucocorticoid Synthesis Pathway During Acute Experimental Chagas Disease. Frontiers in Endocrinology, 10, 866.
Lovelock, D. F., & Deak, T. (2020). Acute stress imposed during adolescence has minimal effects on hypothalamic-pituitary-adrenal (HPA) axis sensitivity in adulthood in female Sprague Dawley rats. Physiology & Behavior, 213, 112707.
Kageyama, K., Asari, Y., Sugimoto, Y., Niioka, K., & Daimon, M. (2019). Ubiquitin-specific protease 8 inhibitor suppresses adrenocorticotropic hormone production and corticotroph tumor cell proliferation. Endocrine Journal, EJ19-0239.
Hueston, C. M., & Deak, T. (2019). Corticosterone and progesterone differentially regulate HPA axis and neuroimmune responses to stress in male rats. Stress, 1-18.
Rasmusson, A. M., King, M. W., Valovski, I., Gregor, K., Scioli-Salter, E., Pineles, S. L., ... & Pinna, G. (2019). Relationships between cerebrospinal fluid GABAergic neurosteroid levels and symptom severity in men with PTSD. Psychoneuroendocrinology, 102, 95-104.
Basham, K. J., Rodriguez, S., Turcu, A. F., Lerario, A. M., Logan, C. Y., Rysztak, M. R., ... & Nusse, R. (2019). A ZNRF3-dependent Wnt/β-catenin signaling gradient is required for adrenal homeostasis. Genes & Development, 33(3-4), 209-220.
Yasuda, A., Seki, T., Kametani, Y., Koizumi, M., Kitajima, N., Oki, M., ... & Fukagawa, M. (2019). Glucocorticoid Receptor Antagonist Administration Prevents Adrenal Gland Atrophy in an ACTH-Independent Cushing's Syndrome Rat Model. International Journal of Endocrinology, 2019.
Asari, Y., Kageyama, K., Sugiyama, A., Kogawa, H., Niioka, K., & Daimon, M. (2019). Lapatinib decreases the ACTH production and proliferation of corticotroph tumor cells. Endocrine journal, EJ18-0491.
Ergang, P., Mikulecká, A., Vodicka, M., Vagnerová, K., Miksik, I., & Pacha, J. (2018). Social defeat stimulates local glucocorticoid regeneration in lymphoid organs. Endocrine Connections, 1(aop).
Hickman, D. L. (2018). Interpreting neuroendocrine hormones, corticosterone, and blood glucose to assess the wellbeing of anesthetized rats during euthanasia. Journal of the American Association for Laboratory Animal Science, 57(6), 725-728.
Kameda, H., Yamamoto, M., Tone, Y., Tone, M., & Melmed, S. (2018). Proton Sensitivity of Corticotropin-Releasing Hormone Receptor 1 Signaling to Proopiomelanocortin in Male Mice. Endocrinology, 160(2), 276-291.
Takizawa, N., Tanaka, S., Oe, S., Koike, T., Yoshida, T., Hirahara, Y., ... & Yamada, H. (2018). Involvement of DHH and GLI1 in adrenocortical autograft regeneration in rats. Scientific reports, 8(1), 14542.
Lu, J., Montgomery, B. K., Chatain, G. P., Bugarini, A., Zhang, Q., Wang, X., ... & Chittiboina, P. (2018). Corticotropin releasing hormone can selectively stimulate glucose uptake in corticotropinoma via glucose transporter 1. Molecular and Cellular Endocrinology, 470, 105-114
Wang, D., Cai, M., Wang, T., Zhao, G., Huang, J., Wang, H., ... & Wang, Y. (2018). Theanine supplementation prevents liver injury and heat shock response by normalizing hypothalamic-pituitaryadrenal axis hyperactivity in mice subjected to whole body heat stress. Journal of Functional Foods, 45, 181-189.
Ziko, I., Sominsky, L., De Luca, S. N., Lelngei, F., & Spencer, S. J. (2018). Acylated ghrelin suppresses the cytokine response to lipopolysaccharide and does so independently of the hypothalamic-pituitary-adrenal axis. Brain, behavior, and immunity.
Lu, J., Chatain, G. P., Bugarini, A., Wang, X., Maric, D., Walbridge, S., ... & Chittiboina, P. (2017). Histone deacetylase inhibitor SAHA is a promising treatment of cushing disease. The Journal of Clinical Endocrinology & Metabolism, 102(8), 2825-2835.
Asari, Y., Kageyama, K., Nakada, Y., Tasso, M., Takayasu, S., Niioka, K., ... & Daimon, M. (2017). Inhibitory effects of a selective Jak2 inhibitor on adrenocorticotropic hormone production and proliferation of corticotroph tumor AtT20 cells. OncoTargets and therapy, 10, 4329.
Konkle, A. T., Keith, S. E., McNamee, J. P., & Michaud, D. (2017). Chronic noise exposure in the spontaneously hypertensive rat. Noise & health, 19(90), 213
Huo, R., Zeng, B., Zeng, L., Cheng, K., Li, B., Luo, Y., ... & Niu, R. (2017). Microbiota modulate anxiety-like behavior and endocrine abnormalities in hypothalamic-pituitary-adrenal axis. Frontiers in cellular and infection microbiology, 7, 489.
Li, Y. Q., Shrestha, Y., Pandey, M., Chen, M., Kablan, A., Gavrilova, O., ... & Weinstein, L. S. (2016). G q/11 α and G s α mediate distinct physiological responses to central melanocortins. The Journal of clinical investigation, 126(1), 40-49.
Ozone, C., Suga, H., Eiraku, M., Kadoshima, T., Yonemura, S., Takata, N., ... & Sasai, Y. (2016). Functional anterior pituitary generated in self-organizing culture of human embryonic stem cells. Nature communications, 7, 10351
Kondoh, K., Lu, Z., Ye, X., Olson, D. P., Lowell, B. B., & Buck, L. B. (2016). A specific area of olfactory cortex involved in stress hormone responses to predator odours. Nature, 532(7597), 103
Alghadir, A. H., & Gabr, S. A. (2015). Physical activity and environmental influences on adrenal fatigue of Saudi adults: biochemical analysis and questionnaire survey. Journal of physical therapy science, 27(7), 2045-2051.
Liang, Q., Zhong, L., Zhang, J., Wang, Y., Bornstein, S. R., Triggle, C. R., & Xu, A. (2014). FGF21 maintains glucose homeostasis by mediating the cross talk between liver and brain during prolonged fasting. Diabetes, 63(12), 4064-4075.
Sasaki, G., Zubair, M., Ishii, T., Mitsui, T., Hasegawa, T., & Auchus, R. J. (2014). The contribution of Serine 194 phosphorylation to steroidogenic acute regulatory protein function. Molecular Endocrinology, 28(7), 1088-1096.
Iijima, M., Yoshimizu, T., Shimazaki, T., Tokugawa, K., Fukumoto, K., Kurosu, S., & Chaki, S. (2014). Antidepressant and anxiolytic profiles of newly synthesized arginine vasopressin V1B receptor antagonists: TASP0233278 and TASP0390325. British journal of pharmacology, 171(14), 3511-3525.
Jedel, S., Hoffman, A., Merriman, P., Swanson, B., Voigt, R., Rajan, K. B & Keshavarzian, A. (2014). A randomized controlled trial of mindfulness-based stress reduction to prevent flare-up in patients with inactive ulcerative colitis. Digestion, 89(2), 142-155.
Hueston, C. M., & Deak, T. (2014). The inflamed axis: the interaction between stress, hormones, and the expression of inflammatory-related genes within key structures comprising the hypothalamic–pituitary–adrenal axis. Physiology & behavior, 124, 77-91.
Blandino Jr, P., Hueston, C. M., Barnum, C. J., Bishop, C., & Deak, T. (2013). The impact of ventral noradrenergic bundle lesions on increased IL-1 in the PVN and hormonal responses to stress in male sprague dawley rats. Endocrinology, 154(7), 2489-2500.
Joseph, A., Tang, M., Mamiya, T., Chen, Q., Yang, L. L., Jiao, J., & Tang, Y. P. (2013). Temporal association of elevated cholecystokininergic tone and adolescent trauma is critical for posttraumatic stress disorder-like behavior in adult mice. Proceedings of the National Academy of Sciences, 110(16), 6589-6594.
Goggin, S. L., Labrecque, M. T., & Allan, A. M. (2012). Perinatal exposure to 50ppb sodium arsenate induces hypothalamic-pituitary-adrenal axis dysregulation in male C57BL/6 mice. Neurotoxicology, 33(5), 1338-1345.
Suga, H., Kadoshima, T., Minaguchi, M., Ohgushi, M., Soen, M., Nakano, T & Sasai, Y. (2011). Self-formation of functional adenohypophysis in three-dimensional culture. Nature, 480(7375), 57-62.
The hypothermic response to bacterial lipopolysaccharide critically depends on brain CB1, but not CB2 or TRPV1, receptors Alexandre, A.S. et al., (2011) J Physiol. 589:2415
Thymocyte-Synthesized Glucocorticoids Play a Role in Thymocyte Homeostasis and Are Down-Regulated by Adrenocorticotropic Hormone Shengjun Qiao et al., Endocrinology, Sep 2009; 150: 4163 - 4169.
Plasma Osteopontin Modulates Chronic Restraint Stress-Induced Thymus Atrophy by Regulating Stress Hormones: Inhibition by an Anti-Osteopontin Monoclonal Antibody Kathryn X. Wang et al., J. Immunol., Feb 2009; 182: 2485 - 2491.
Complex Role of the Mitochondrial Targeting Signal in the Function of Steroidogenic Acute Regulatory Protein Revealed by Bacterial Artificial Chromosome Transgenesis in Vivo Goro Sasaki et al., Mol. Endocrinol., Apr 2008; 22: 951 - 964.
Inhibition of brain proinflammatory cytokine synthesis reduces hypothalamic excitation in rats with ischemia-induced heart failure Yu-Ming Kang et al., Am J Physiol Heart Circ Physiol, Jul 2008; 295: H227 - H236.
Electroacupuncture activates corticotrophin-releasing hormone-containing neurons in the paraventricular nucleus of the hypothalammus to alleviate edema in a rat model of inflammation Aihui Li, et al. BMC Complement Altern Med. 2008; 8:20
Lesions of the anteroventral third ventricle region exaggerate neuroendocrine and thermogenic but not behavioral responses to a novel environment. Douglas G. Whyte and Alan Kim Johnson Am J Physiol Regulatory Integrative Comp Physiol, Jan 2007; 292: R137 - R142.
Neuroendocrine profiling in inherited stress-induced arterial hypertension rat strain with stress-sensitive arterial hypertension A L Markel et al., J. Endocrinol., Dec 2007; 195: 439 - 450.
The Effects of SOM230 on Cell Proliferation and Adrenocorticotropin Secretion in Human Corticotroph Pituitary Adenomas Dalia L. Batista et al., J. Clin. Endocrinol. Metab., Nov 2006; 91: 4482 - 4488.
Product Insert (PDF) - Informational use only. Please refer to insert included with product.
Data/Specifications:
Species: human, mouse, rat
Sample Type: plasma
Sample Size: 200 uL
Standard Curve Range: 0 - 500 pg/mL
Sensitivity: 0.46 pg/mL
Assay Length: 4.5 hours