T1/ST2 (IL-33 R) Mouse, Monoclonal Antibody, PE Conjugated, 0.1 mL
Mouse T1/ST2 (IL-33 R) PE conjugated monoclonal antibody (Clone DJ8, Host / Isotype Subclass: Rat IgG1, light chain not isotyped) for the identification and purification of murine T helper 2 (Th2)...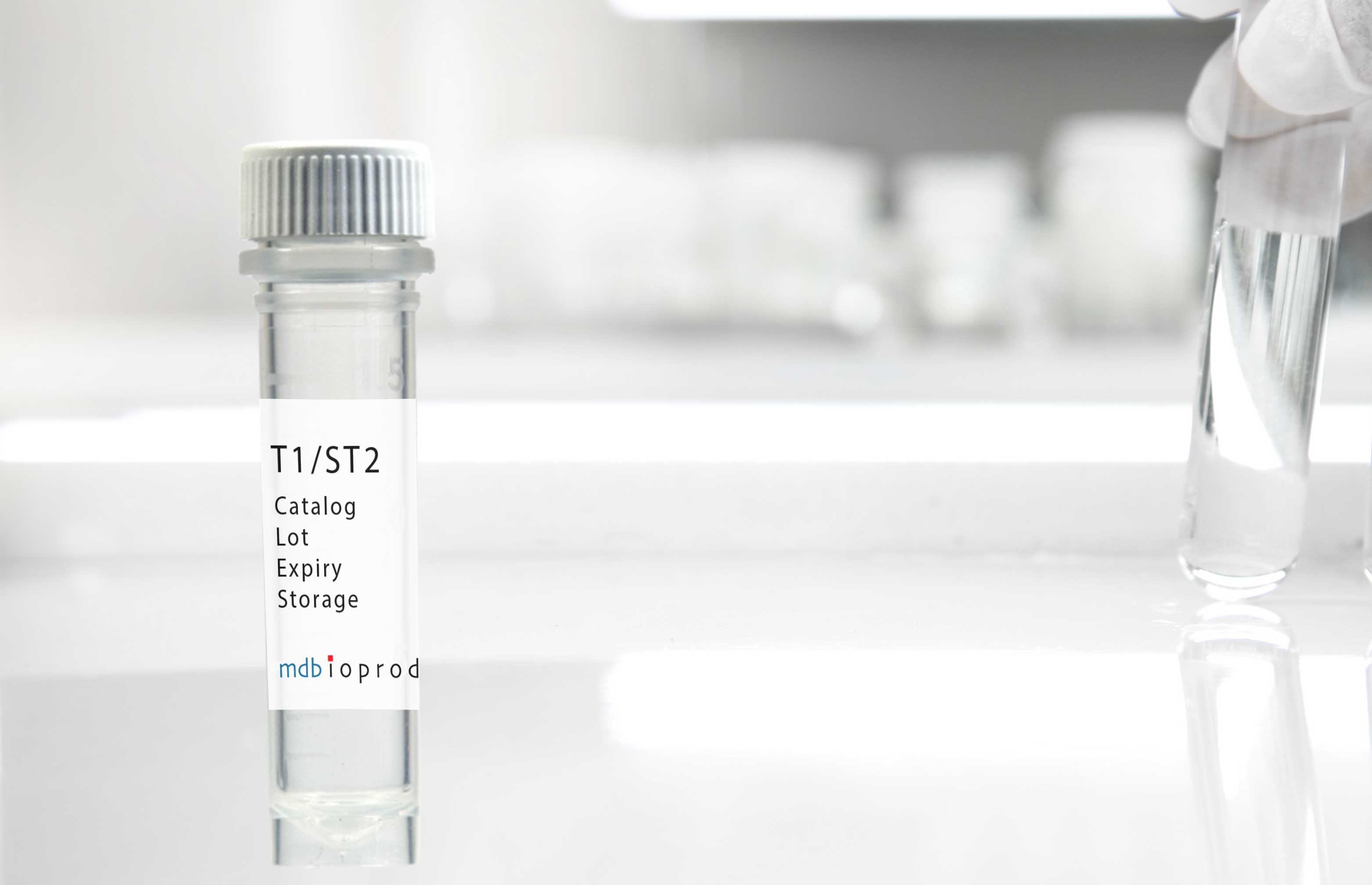 Mouse T1/ST2 (IL-33 R) PE conjugated monoclonal antibody (Clone DJ8, Host / Isotype Subclass: Rat IgG1, light chain not isotyped) for the identification and purification of murine T helper 2 (Th2) cells and all forms of murine mast cells.

T1/ST2 (also known as IL-1 R4 or IL-33Ra) is a transmembrane glycoprotein expressed on mast cells and Th2 cells. It is a selective marker for murine Th2 lymphocytes and plays a role in regulating inflammatory responses. IL-33 is a recently identified member of the IL-1 family of cytokines and is involved in Th2 mediated immune responses. IL-33 mediates its biological effects via T1/ST2 binding. The roles of IL-33 and T1/ST2 (IL-33Ra) have been investigated in many immune responses such as allergy, asthma, rheumatoid arthritis and osteoarthritis.
References/Citations:
Lai, D., Chen, W., Zhang, K., Scott, M. J., Li, Y., Billiar, T. R., ... & Fan, J. (2022). GRK2 regulates group 2 innate lymphoid cell mobilization in sepsis. Molecular Medicine, 28(1), 1-12.
Cautivo, K. M., Matatia, P. R., Lizama, C. O., Mroz, N. M., Dahlgren, M. W., Yu, X., ... & Molofsky, A. B. (2022). Interferon gamma constrains type 2 lymphocyte niche boundaries during mixed inflammation. Immunity, 55(2), 254-271.
Huang, Y., Li, X., Zhu, L., Huang, C., Chen, W., Ling, Z., ... & Zhang, Y. (2022). Thrombin cleaves IL‐33 and modulates IL‐33‐activated allergic lung inflammation. Allergy.
Frech, M., Omata, Y., Schmalzl, A., Wirtz, S., Taher, L., Schett, G., ... & Sarter, K. (2022). Btn2a2 Regulates ILC2–T Cell Cross Talk in Type 2 Immune Responses. Frontiers in immunology, 13.
O'Leary, C. E., Sbierski-Kind, J., Kotas, M. E., Wagner, J. C., Liang, H. E., Schroeder, A. W., ... & Locksley, R. M. (2022). Bile acid–sensitive tuft cells regulate biliary neutrophil influx. Science Immunology, 7(69), eabj1080.
Arora, P., Andersen, D., Moll, J. M., Danneskiold-Samsøe, N. B., Xu, L., Zhou, B., ... & Brix, S. (2021). Small Intestinal Tuft Cell Activity Associates With Energy Metabolism in Diet-Induced Obesity. Frontiers in Immunology, 12.
Van der Jeught, K., Sun, Y., Fang, Y., Zhou, Z., Jiang, H., Yu, T., ... & Eyvani, H. (2020). ST2 as checkpoint target for colorectal cancer immunotherapy. JCI insight, 5(9).

Symowski, C., & Voehringer, D. (2019). Th2 cell-derived IL-4/IL-13 promote ILC2 accumulation in the lung by ILC2-intrinsic STAT6 signaling in mice. European Journal of Immunology.

Kobayashi, T., Voisin, B., Kennedy, E. A., Jo, J. H., Shih, H. Y., Truong, A., ... & Moro, K. (2019). Homeostatic Control of Sebaceous Glands by Innate Lymphoid Cells Regulates Commensal Bacteria Equilibrium. Cell, 176(5), 982-997

Moldaver, D. M., Bharhani, M. S., Rudulier, C. D., Wattie, J., Inman, M. D., & Larché, M. (2019). Induction of bystander tolerance and immune deviation after Fel d 1 peptide immunotherapy. Journal of Allergy and Clinical Immunology, 143(3), 1087-1099.

Lai, D., Tang, J., Chen, L., Fan, E. K., Scott, M. J., Li, Y., ... & Fan, J. (2018). Group 2 innate lymphoid cells protect lung endothelial cells from pyroptosis in sepsis. Cell death & disease, 9(3), 369.

Schneider, C., O'Leary, C. E., von Moltke, J., Liang, H. E., Ang, Q. Y., Turnbaugh, P. J., ... & Locksley, R. M. (2018). A Metabolite-Triggered Tuft Cell-ILC2 Circuit Drives Small Intestinal Remodeling. Cell.

Omata, Y., Frech, M., Primbs, T., Lucas, S., Andreev, D., Scholtysek, C., ... & Andreas, N. (2018). Group 2 Innate Lymphoid Cells Attenuate Inflammatory Arthritis and Protect from Bone Destruction in Mice. Cell reports, 24(1), 169-180.

Cutting Edge: Atopy Promotes Th2 Responses to Alloantigens and Increases the Incidence and Tempo of Corneal Allograft Rejection
Clay Beauregard et al., J. Immunol., Jun 2005; 174: 6577 - 6581.
Predominance of Th2 response in human abdominal aortic aneurysm: Mistaken identity for IL-4-producing NK and NKT cells? Chan WL, et al. Cellular Immun (2005) 233:109-114
Changes in systemic type 1 and type 2 immunity in normal pregnancy and pre-eclampsia may be mediated by natural killer cells Borzychowski, A.M. et al., Eur J Immunol (2005) 35:3054-3063.
Atherosclerotic Abdominal Aortic Aneurysm and the Interaction Between Autologous Human Plaque-Derived Vascular Smooth Muscle Cells, Type-1 NKT, and Helper T-Cells Chan, W.L. et al., Circ Res (2005) 96:675-683
NKT cell subsets in infection and inflammation Chan WL, et al. Immun Lett (2003) 85:159-163Regulation of ST2L expression on T helper (Th) type 2 cells Carter, R.W. et al., Eur. J. Immunol. (2001) 31:2979-2985
Human IL-18 Receptor and ST@L Are Stable and Selective markers for the Respective Type 1 and Type 2 Circulating Lymphocytes Chan WL, et al. J Immunol. 2001 Aug 1; 167(3):1238-44.


Product Insert (PDF) - Informational use only. Please refer to insert included with product.
Data/Specifications:
Rat anti-Mouse T1/ST2 PE-conjugated mAb
Clone: DJ8
Host / Isotype Subclass: Rat IgG1 (light chain not isotyped)
Form: The R-phycoerthrin free Bovine Serum Albumin (BSA) and with 0.1% sodium azide as a perservative and purified over protein G-sepharose. The characteristics of each lot are tested by FACS analysis with bone marrow derived mast cells.
Specificity: This clone recognizes the membrane anchored murine T1M protein on the surface of T helper 2 cells and mast cells. T1M appears on fetal blood derived mast cell progenitors before they express the Fce RI, on IL-3-dependent bone marrow derived mast cells and on mature peritoneal mast cells. The antibody detects T1S protein consisting only of the extracellular portion of the protein, which is secreted from growth factor and proinflammatory cytokine-stimulated murine fibroblasts.
Immunogen: Eukariotically expressed fusion protein of mouse T1 ectodomain and human immunoglobulin Fc domain.