ST2L Human, Monoclonal Antibody, FITC, 200 uL
Human ST2L FITC conjugated monoclonal antibody (Clone: B4E6, Host / Isotype Subclass: Mouse IgG1), for the identification and purification of human type 2 lymphocyte (Th2) subsets. T1/ST2 (also known as IL-1 R4...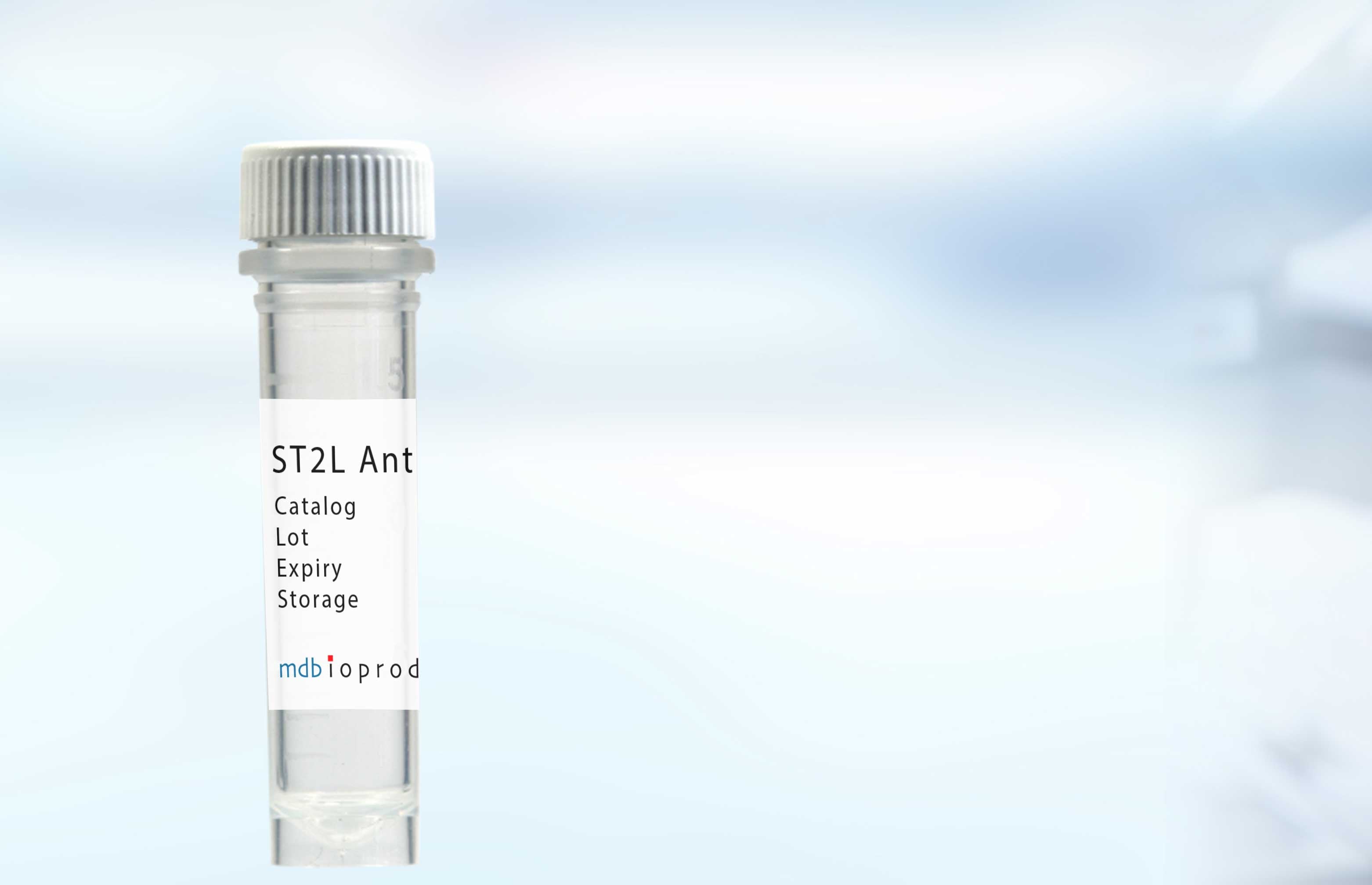 Human ST2L FITC conjugated monoclonal antibody (Clone: B4E6, Host / Isotype Subclass: Mouse IgG1), for the identification and purification of human type 2 lymphocyte (Th2) subsets.
 
T1/ST2 (also known as IL-1 R4 or IL-33Ra) is a transmembrane glycoprotein expressed on mast cells and Th2 cells. It is a selective marker for human Th2 lymphocytes and plays a role in regulating inflammatory responses. IL-33 is a recently identified member of the IL-1 family of cytokines and is involved in Th2 mediated immune responses. IL-33 mediates its biological effects via T1/ST2 binding. The roles of IL-33 and T1/ST2 (IL-33Ra) have been investigated in many immune responses such as allergy, asthma, rheumatoid arthritis and osteoarthritis.

References/Citations:

Tariq, M., Gallien, S., Surenaud, M., Wiedemann, A., Jean-Louis, F., Lacabaratz, C., ... & Hüe, S. (2022). Profound Defect of Amphiregulin Secretion by Regulatory T Cells in the Gut of HIV-Treated Patients. The Journal of Immunology, 208(10), 2300-2308.
Zhang, K., Jin, Y., Lai, D., Wang, J., Wang, Y., Wu, X., ... & Wilson, M. (2020). RAGE-induced ILC2 expansion in acute lung injury due to haemorrhagic shock. Thorax.

Dreis, C., Ottenlinger, F., Putyrski, M., Ernst, A., Huhn, M., Schmidt, K. G., ... & Radeke, H. H. (2019). Tissue cytokine IL-33 modulates the cytotoxic CD8 T lymphocyte activity during nutrient deprivation by regulation of lineage-specific differentiation programs. Frontiers in Immunology, 10, 1698.

Kim, J., Chang, Y., Bae, B., Sohn, K. H., Cho, S. H., Chung, D. H., ... & Kim, H. Y. (2019). Innate immune crosstalk in asthmatic airways: Innate lymphoid cells coordinate polarization of lung macrophages. Journal of Allergy and Clinical Immunology, 143(5), 1769-1782.

Rönnberg, E., Ghaib, A., Ceriol, C., Enoksson, M., Arock, M., Säfholm, J., ... & Nilsson, G. (2018). Divergent effects of acute and prolonged interleukin 33 exposure on mast cell IgE-mediated functions. bioRxiv, 463950.

Wojno, E. T., Monticelli, L. A., Tran, S. V., Alenghat, T., Osborne, L. C., Thome, J. J., ... & Artis, D. (2015). The prostaglandin D 2 receptor CRTH2 regulates accumulation of group 2 innate lymphoid cells in the inflamed lung. Mucosal immunology, 8(6), 1313.

Hams, E., Armstrong, M. E., Barlow, J. L., Saunders, S. P., Schwartz, C., Cooke, G., ... & Voehringer, D. (2014). IL-25 and type 2 innate lymphoid cells induce pulmonary fibrosis. Proceedings of the National Academy of Sciences, 111(1), 367-372

Seltmann, J., Werfel, T., & Wittmann, M. (2013). Evidence for a regulatory loop between IFN‐γ and IL‐33 in skin inflammation. Experimental dermatology, 22(2), 102-107.

Hyde, R. K., Kamikubo, Y., Anderson, S., Kirby, M., Alemu, L., Zhao, L., & Liu, P. P. (2010). Cbfb/Runx1 repression–independent blockage of differentiation and accumulation of Csf2rb-expressing cells by Cbfb-MYH11. Blood, 115(7), 1433-1443.

van't Veer, C., van den Pangaart, P. S., van Zoelen, M. A., de Kruif, M., Birjmohun, R. S., Stroes, E. S., ... & van der Poll, T. (2007). Induction of IRAK-M is associated with lipopolysaccharide tolerance in a human endotoxemia model. The Journal of Immunology, 179(10), 7110-7120.

Abdulahad, W. H., van der Geld, Y. M., Stegeman, C. A., & Kallenberg, C. G. (2006). Persistent expansion of CD4+ effector memory T cells in Wegener's granulomatosis. Kidney international, 70(5), 938-947.

IL-33 Induces Antigen-Specific IL-5+ T Cells and Promotes Allergic-Induced Airway Inflammation Independent of IL-4
Mariola Kurowska-Stolarska et al., J. Immunol., Oct 2008; 181: 4780 - 4790.Induction of IRAK-M Is Associated with Lipopolysaccharide Tolerance in a Human Endotoxemia Model

Cornelis van 't Veer et al., J. Immunol., Nov 2007; 179: 7110 - 7120.The vast majority of CLA+ T cells are resident in normal skin.
Clark R, et al. J of immunology., 2006; 176(7): 4431-9.Predominance of Th2 response in human abdominal aortic aneurysm: Mistaken identity for IL-4-producing NK and NKT cells? Chan WL, et al. Cellular Immun (2005) 233:109-114

Changes in systemic type 1 and type 2 immunity in normal pregnancy and pre-eclampsia may be mediated by natural killer cells Borzychowski, A.M. et al., Eur J Immunol (2005) 35:3054-3063. Atherosclerotic Abdominal Aortic Aneurysm and the Interaction Between Autologous Human Plaque-Derived Vascular Smooth Muscle Cells, Type-1 NKT, and Helper T-Cells Chan, W.L. et al., Circ Res (2005) 96:675-683NKT cell subsets in infection and inflammation Chan WL, et al. Immun Lett (2003) 85:159-163

Regulation of ST2L expression on T helper (Th) type 2 cells Carter, R.W. et al., Eur. J. Immunol. (2001) 31:2979-2985Human IL-18 Receptor and ST@L Are Stable and Selective markers for the Respective Type 1 and Type 2 Circulating Lymphocytes Chan WL, et al. J Immunol. 2001 Aug 1; 167(3):1238-44.

Product Insert (PDF) - Informational use only. Please refer to insert included with product.
Data/Specifications:
Clone: B4E6
Host / Isotype Subclass: Mouse IgG1
Form: The fluorescein (FITC) conjugated antibody is supplied in PBS and purified over protein Gsepharose from concentrated tissue culture supernatant. This antibody is supplied with 0.1% sodium azide as a preservative.
Specificity: This clone recognizes hST2L specifically on the cell surface of human type 2 (Th2, Tc2, NK2 and NKT2) but not type 1 lymphocytes.